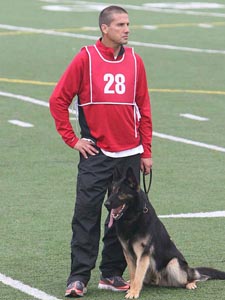 Bill Kulla has been actively involved in the sport of Schutzhund since the mid-1970s. In that time, he has trained, titled and handled countless dogs and successfully competed at national and international events. Bill has made his name as a handler that likes an especially strong dog in the protection work.
As a training helper and coach, Bill has helped numerous competitors train, title and compete with their dogs at every level in the sport, from handlers taking their first puppy to SchH3 to regional/national/world level competitors. Though the German Shepherd Dog is his breed of choice, Bill has helped handlers with a wide variety of breeds attain Schutzhund titles.
Bill currently is the President and Training Director of Indian Creek Schutzhund Club, a USA Teaching Helper and the North Central Region's Regional Training Director. He is also a performance judge for the Working American Bulldog Association.
Bill has competed at a national and international level with the following dogs:
KWAY VOM POSTHORN SCHH3 KKL1 a-normal
(Asko von der Lutter SchH3 IPO3 FH x Frigga vom Posthorn SchH1)
* High Protection: 2007 North American Championships
* 1st place: 2006 USA North Central Regional Championships (97-96-98=291V 'a')
* 7th place: 2006 USA North American Championships (96-90-94=280 'a')
* 4th place: 2005 USA SchH3 Nationals (100-88-97=285 'a')
* 1st place: 2005 North Central Regional Championships (96V protection)
* 10th place: 2005 WDA National SchH3 Championships (C: 93; tied for high protection under Gunter Diegel)
* 1st place: 2004 North Central Regional Championships (98V protection)
EIKO VOM KLOSTER THEDINGA SchH3 FH KKL2 a-normal
(Iko von der Lindenhalle SchH3 FH x Elli von der Philippsburg SchH3)
* 2003 North American Championships (8th Place: 92-93-96=281; C: Lance Collins)
* 2002 WUSV World Championships; WDA team (95-84-92=271 points)
* 2002 National SchH3 Championship (91-91-95=277 points)
* 2002 German Shepherd Dog Championships (98-91-96=285 points)
* 2000 Bundessieger-Prufung (16th Place: 97-96-91=284 points)
* High SchH3 score: 100-98-99=297 points
QUECK VON DER KROTTEECK SchH3 FH KKL2
(Gildo vom Korbelbach SchH3 IPO3 FH x Vroni von der Krotteeck SchH3)
• 1994 USA Nationals competitor
• 1993 USA World Qualifier (97-82-92=271)
• 1993 USA North American Championships: Seventh place (97-87-98=282)
• 1993 USA Nationals competitor
• 1992 FCI World Championships team member
• 1992 USA Nationals: Fifth place (92-92-99=284)
• 1992 North Central Regional Champion
• 1992 USA North American Championships (96-88-97=281)
• 1992 USA World Qualifier (97V protection)
• 1991 USA Nationals (90-89-94=273 'a')
V CHUCHO VOM SCHLOSS GUTTENBERG SchH3 KKL1 OFA Good
(Panter Schmiedegrundsee SchH1 x Alessa vom Schloss Guttenberg)
• 1994 USA World Qualifier: 2nd place (98-94-94=286V)
• 1994 USA North American Championships competitor
• 1993 Bundessieger Prufung: 15th place
V NATAN VOM BUSECKER SCHLOSS SchH3 FH KKL1 OFA Excellent
(V Sagus vom Busecker Schloß SchH3 x Cora von der Taunussteiner Höhe SchH3)
• 1990 USA World Qualifier competitor
• 1990 USA National Championships competitor
• 1989 USA National Championships (87-96-93=276)
• High protection: 1989 DVG Nationals
• FH with 100 points
V SUNNY VON DER BOTTROPER GRENZE SchH3 KKL1
• 1988 USA National Championships competitor
• 1988 USA North American Championships competitor
• 1988 USA North Central Regional Champion
• 1987 USA North American Championships competitor
815.355.4749 | info@kulladogs.com