CONGRATULATIONS TO BILL & KWAY:
HIGH PROTECTION (97V) AT THE 2007 NORTH AMERICANS!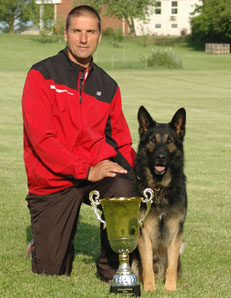 Kway is the expression of his world class bloodlines: son of Asko von der Lutter and grandson of Aly vom Vordersteinwald.
Asko was the 1998 Bundessieger and 2000 WUSV World Champion and has proven himself as producer already. At the past three BSPs, Asko had more sons shown than any other dog. Aly was a close second.
Kway himself is a true all-three-phase dog: tracking is deep-nosed and methodical, obedience is fast and animated yet precise, and bitework is extremely strong with full, hard grips. Kway is balanced in the protection work and brings his natural aggression to the work for strong guarding. Through all three phases, Kway is a dog that is in true harmony with his handler, and their strong bond is evident on and off the field.